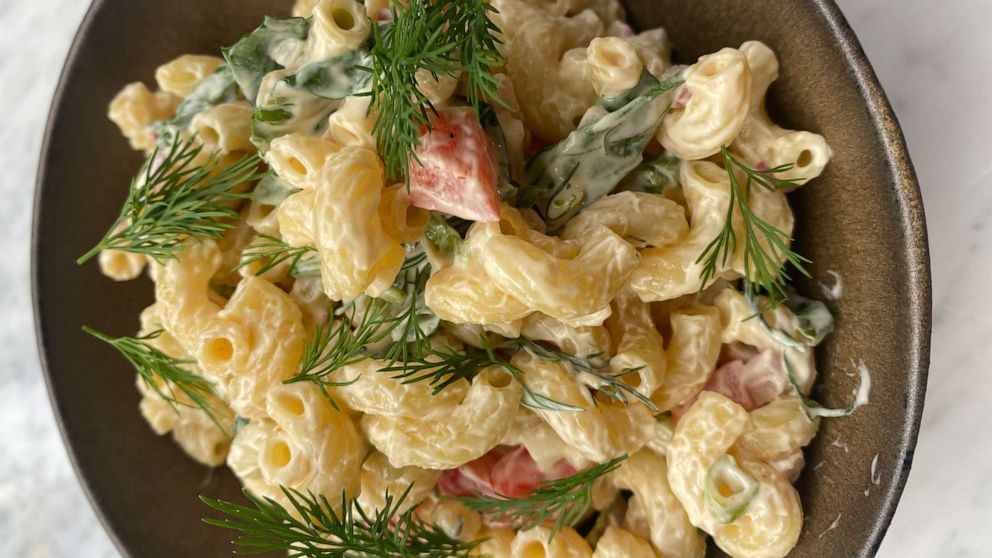 2 classic summer side dishes from Alex Guarnaschelli: Potato and macaroni salad
The chef and restaurateur shared two simple recipes perfect for summer.
Sides are arguably some of the best foods at any barbecue or summertime soiree.
So "Good Morning America" tapped celebrity chef Alex Guarnaschelli to share two of her recipes that are bound to be instant hits.
Classic macaroni salad
Said Guarnaschelli: "Macaroni salad is something my mom would buy at the supermarket and I loved it. We had it once in a great while. Sometimes, she would make her mayonnaise from scratch, use a whole grain, extra "wheaty" — and weirdly-shaped — pasta and fancy vegetables. I never had the heart to tell her that supermarket version was just somehow better. … Here is that supermarket macaroni salad we all love with some scallions, a whisper of dill and basil as a "twist" to update my 70s childhood memory. Don't like dill? Simply omit. This salad is picnic perfect or portable in every way."
Cook time: 9-11 minutes
Yield: 4-6 servings
Ingredients
3/4 cup mayonnaise
1 tablespoon Dijon mustard
1 tablespoon red wine vinegar
2 teaspoons soy sauce
1 teaspoon hot sauce
1 small red onion diced (about ¼ cup) and soaking in ice water for at least 1 hour and up to 12 hours
1 large red bell pepper, seeded and diced
3 scallions, green parts ONLY, thinly sliced
Kosher salt
3/4 pound elbow macaroni
1 sprig fresh dill, finely chopped (or 1/2 teaspoon dry dill weed)
4 sprigs basil, stemmed
Directions
1. The mayonnaise mix: In a large bowl, whisk the mayonnaise, mustard, vinegar, soy sauce and hot sauce together until smooth. Drain and thoroughly dry the onion and stir it into the mayo with the red pepper, scallions and a generous pinch salt.
2. The pasta: In a large pot, bring 4 quarts of water to a rolling boil. Add a generous amount of salt. It should taste like seawater. Cook the pasta, stirring from time to time, until "al dente", chewy but not hard or raw tasting, 9-11 minutes, and drain. Do not rinse the pasta. Spread it out on a large baking sheet to cool 5-10 minutes.
3. Finish: While the pasta is still warm, toss with the mayonnaise mix and let it "rest" at room temperature, 10-15 minutes. Cover and refrigerate. Stir in the dill and basil just before serving. Taste for seasoning.
Red Bliss potato salad
According to the chef: "The key here is boiling the potatoes just right: cooked through but still holding their shape. The pickles, shallot and scallions bring really add a lot of texture and flavor to the potatoes. You can also easily stir in mayonnaise in place of the olive oil and substitute in other types of vinegar — apple cider, for instance. You can also stir in a can of cooked — drained and rinsed — chickpeas to add more protein and bulk this salad up.
Cook time: 20-25 minutes
Yield: 4-6 servings
Ingredients
2 pounds medium Red Bliss potatoes
Kosher salt
3-4 tablespoons extra-virgin olive oil
1 medium shallot, sliced into thin rounds
2 tablespoons smooth (Dijon) mustard
1 tablespoon red wine vinegar
4 scallions, minced, green and white parts both
1 large pickle, finely chopped plus 1-2 tablespoons of the pickle brine
Directions
1. The potatoes: In a medium pot, cover the potatoes with cold water and bring to a simmer over medium heat.
2. The dressing: In a bowl large enough to hold the potatoes, whisk together 3 tablespoons of the olive oil, shallot, mustard, red wine vinegar, the scallions, pickle and brine. Taste for seasoning. Add a spoonful of water or remaining tablespoon olive oil to loosen or mellow the flavor, if needed.
3. The potatoes: When the potatoes are completely tender when pierced with the tip of a knife, 20-25 minutes, drain and cool slightly.
4. Finish: Combine the potatoes with the dressing, lightly crushing them with the tines of a fork. Season lightly with salt. Taste for seasoning.