25+ Recipes That Use Ricotta Cheese (The BEST Ricotta Recipes)
Wondering how to use up that container of ricotta cheese that's in the fridge? Here are 25+ amazingly delicious ricotta recipes. From pasta recipes, to sweet recipes and more!
Wondering how to use up that container of leftover ricotta cheese that's in the fridge?
It's easy! Ricotta, a creamy Italian cheese, is such a versatile ingredient that can be used in a variety of dishes – from savory pasta dishes to desserts!
Here are 25 of the best ricotta cheese recipes. So you no longer have to ask the question – "What can I use ricotta cheese for?"
🍝 Pasta Recipes
This Fennel Pasta recipe features fresh linguini tossed in a light lemon sauce with roasted fennel. It's topped with dollop of ricotta cheese for extra richness. 
Get the RECIPE
Lasagna Soup tastes just like lasagna without all the work. This beef & noodle tomato soup is served topped with a creamy ricotta cheese mixture that melts deliciously into it. 
Get the RECIPE
This lemon ricotta pasta with spinach is a light, fresh weeknight meal that comes together in less than 30 minutes! The perfect summer pasta!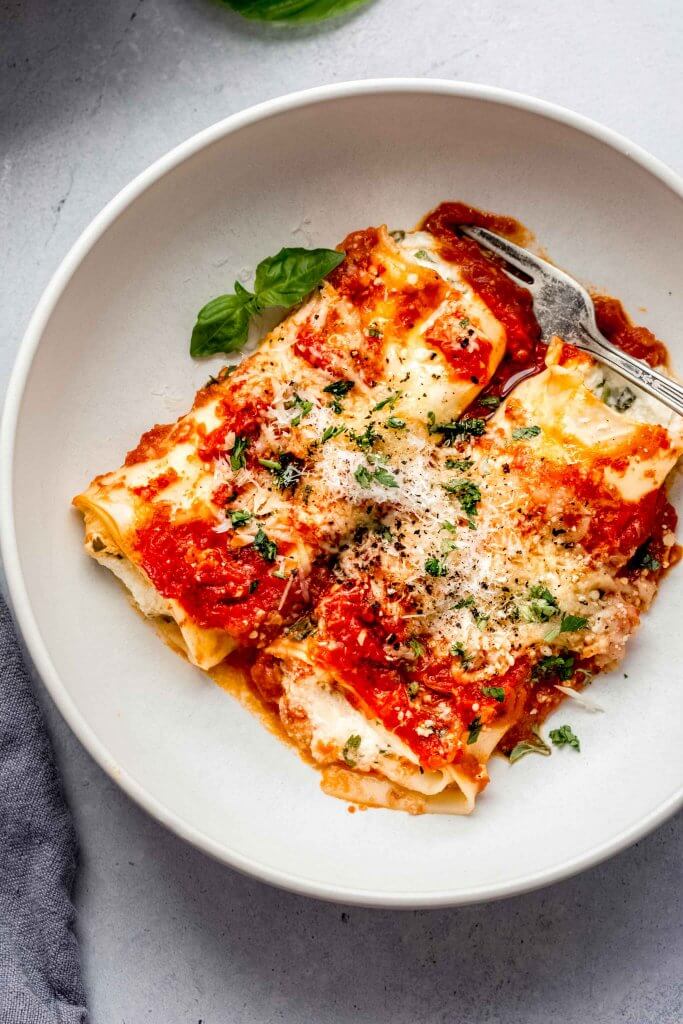 This 3-cheese stuffed manicotti recipe is made extra easy by using no boil lasagna noodles instead of pasta tubes. That means no need for a piping bag to fill them, and they come together so quickly. They'll be ready to bake in just 10 minutes! 
Get the RECIPE
Learn how to make sweet potato gnocchi with this easy recipe. You only need 5-ingredients to make them! Dressed up with a browned butter sage sauce that's packed with flavor.
Get the RECIPE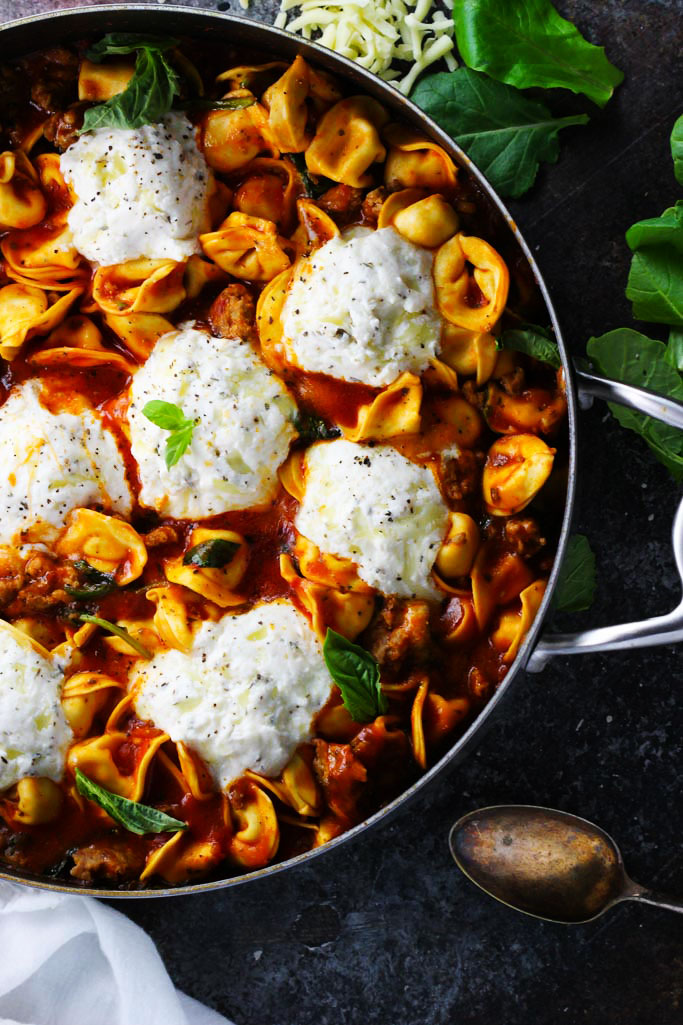 This 20-Minute Tortellini Skillet Lasagna with Sausage & Kale makes it easy to have a delicious and nutritious Italian dinner on the table in a hurry, even on a weeknight.
Get the RECIPE
🍗 Chicken Recipes
These chicken ricotta meatballs are absolutely delicious chicken meatballs in a savory, creamy spinach Alfredo sauce with crispy bacon.
Italian marinated chicken breasts get quickly browned, topped with a luscious combination of cheeses, and baked until tender perfection in a tomato sauce.
🥬 Healthy Recipes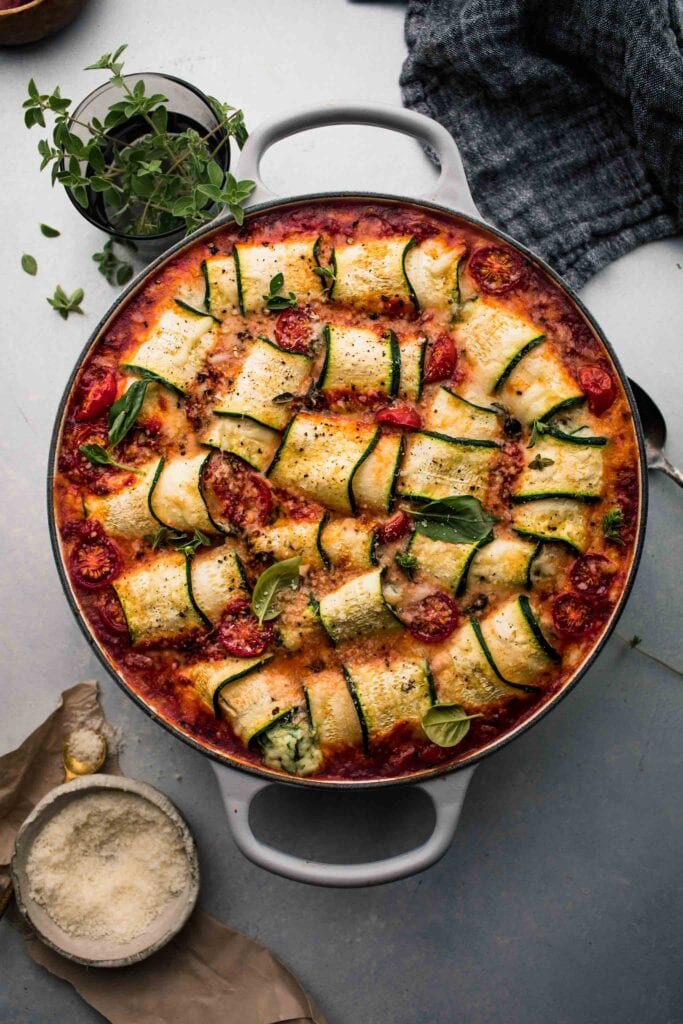 These Vegetarian Zucchini Lasagna Rolls are low-carb and gluten-free yet still sinfully delicious with loads of melty cheese and plenty of fresh herbs. Made easy using store-bought tomato sauce.
Get the RECIPE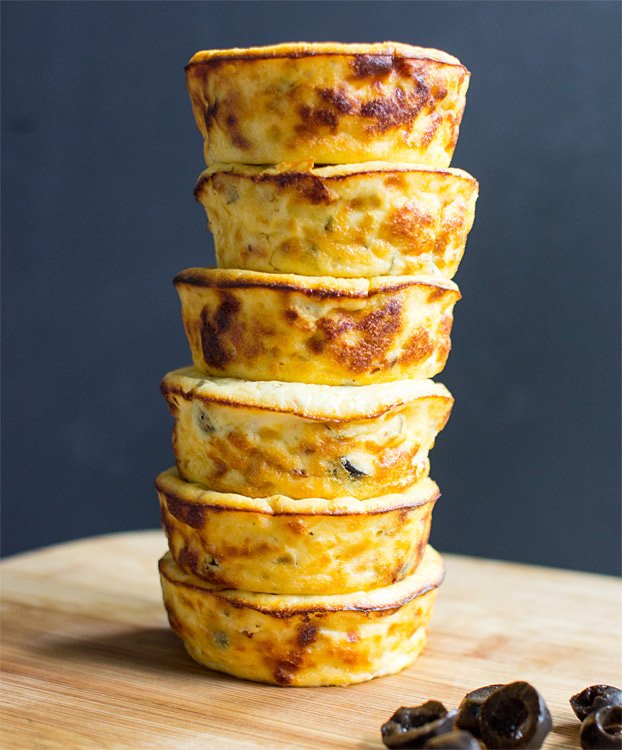 Mediterranean Baked Ricotta Muffins. High protein meets high flavour in these delicious ricotta muffins, perfect as a filling snack or post-gym meal.
Spaghetti Squash Casserole made with tomatoes, Italian spices, creamy ricotta cheese and parmesan is a delicious and hearty vegetarian-friendly dinner option or delicious side dish.
Get the RECIPE
🧁 Sweet Recipes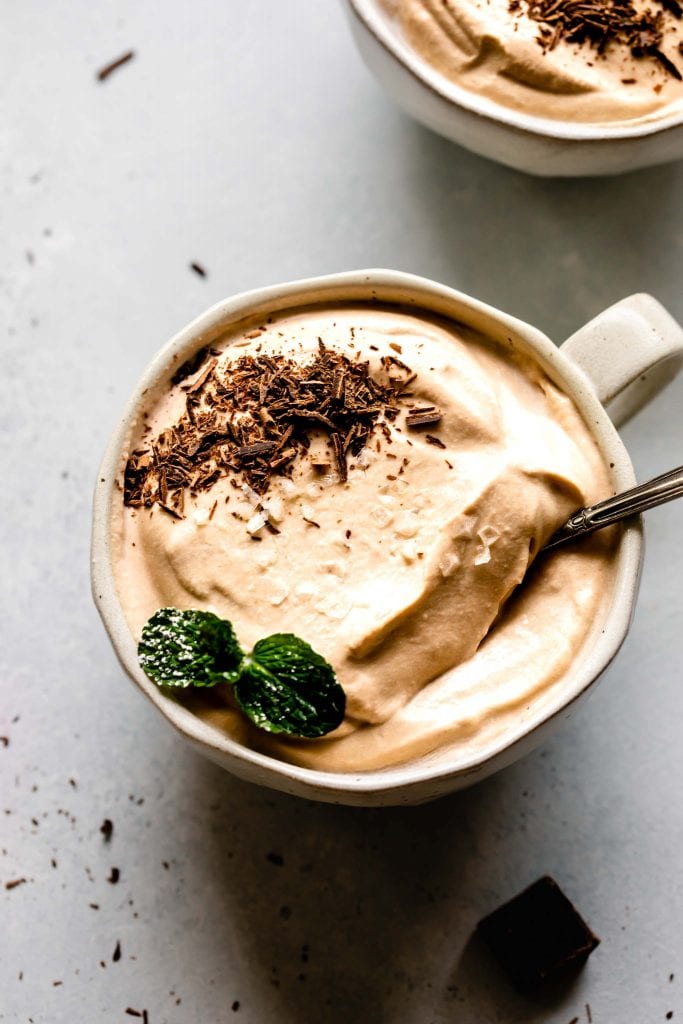 Mocha Coffee Mousse is a decadent, airy dessert flavored with coffee & cocoa. Made with whipped cream & ricotta cheese to make it creamy without gelatin.
Get the RECIPE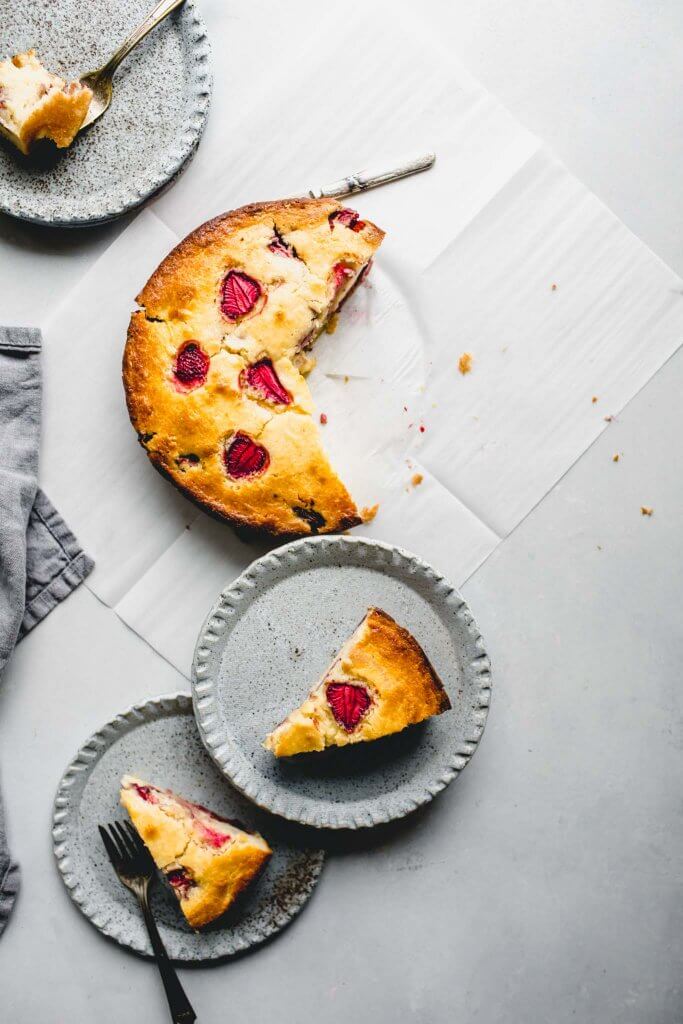 This Strawberry Ricotta Cake is the most delicious Italian-inspired dessert. The rich ricotta provides the cake with perfect moisture and density and the strawberries make the flavor pop. It's almost like a combination between a cake and a cheesecake.
Get the RECIPE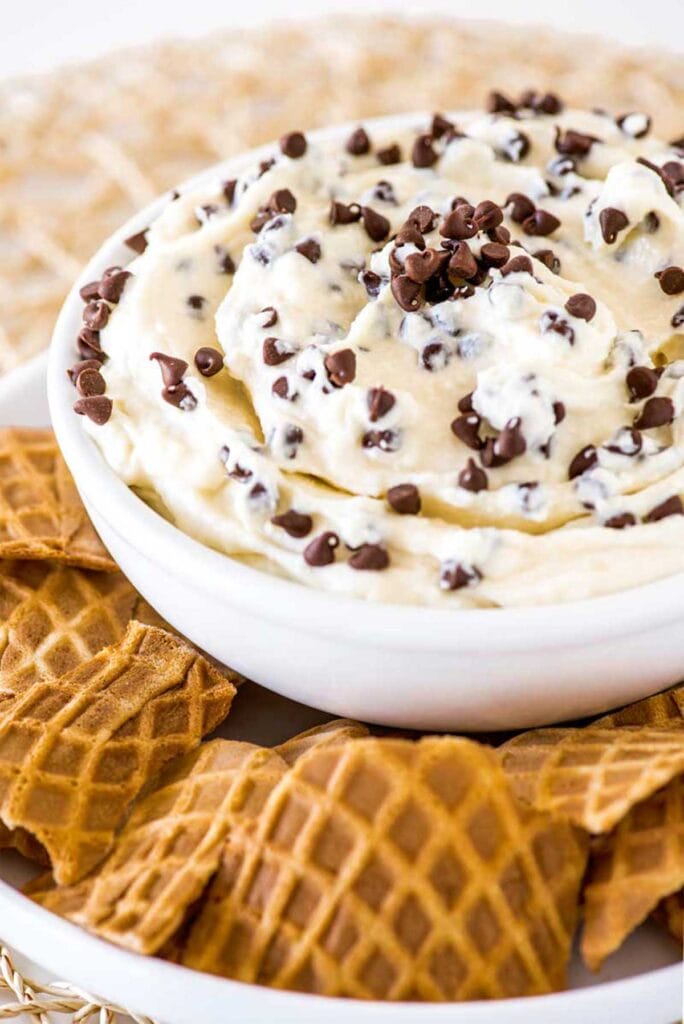 This easy chocolate chip cannoli dip is made with ricotta, cream cheese, powdered sugar, and vanilla, then served with broken waffle cones for dipping.
Ricotta Mousse can be made in just 10-minutes with 4 simple ingredients. This no-bake, make-ahead raspberry mousse is a creamy, decadent and delicious. 
Get the RECIPE
This Blackberry Ricotta Cake is the most delicious Italian-inspired dessert. The rich ricotta provides the cake with perfect moisture and density and the blackberries make the flavor pop. It's like the best combination of cake and cheesecake.
Get the RECIPE
🍴 Breakfast Recipes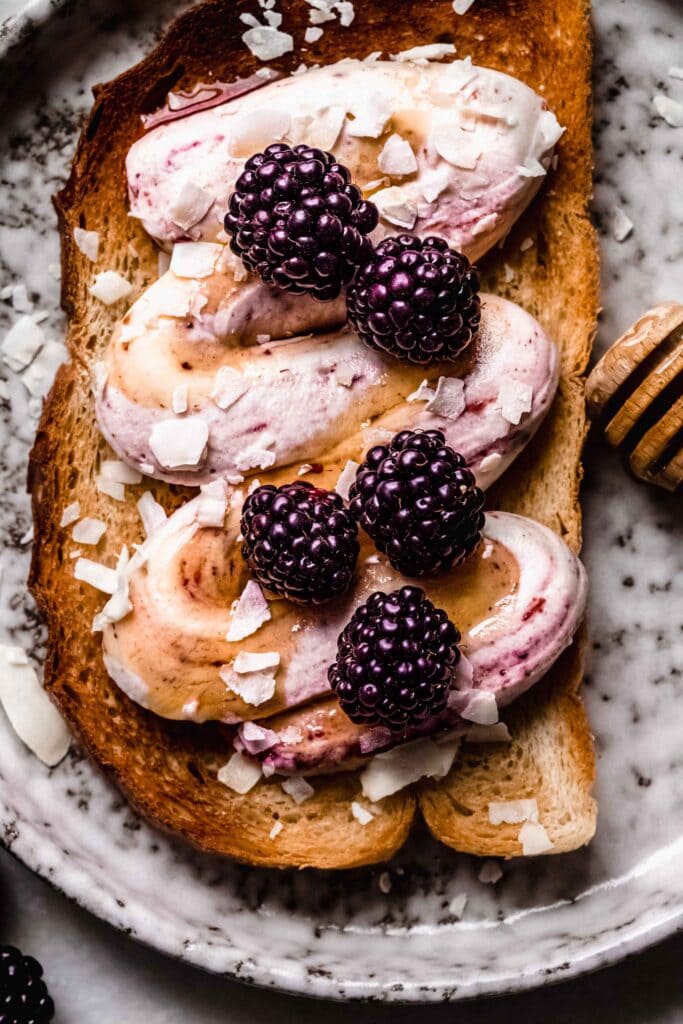 Ricotta Toast finished with fresh berries, coconut flakes, and honey. It's a deliciously sweet & creamy breakfast or quick snack.
Get the RECIPE
Lemon Ricotta Pancakes made with fresh lemon, lemon zest, and ricotta cheese – these lemony soft and fluffy pancakes make the perfect weekend breakfast and are likely to become a new favorite!
Ricotta Scrambled Eggs is a delicious way to enjoy fluffy eggs in a new way. With a delicious taste profile, let's make this easy low carb keto egg recipe.
ℹ️ Ricotta FAQs
How Long Does Ricotta Cheese Last?
Once opened, that tub of ricotta cheese should be consumed within 3 to 5 days.
Can you Freeze Ricotta Cheese?
You can freeze ricotta cheese, however, the texture will change once frozen. Frozen ricotta is best in recipes where it is baked, like in this Cheese Manicotti or Ricotta Cake.
RECIPE
10

Ounces

Fresh Linguine

1

Fennel Bulb

1

Tablespoon

Olive Oil

2

Tablespoons

Butter

⅓

cup

Part-Skim Ricotta Cheese

3

cloves

Garlic

(minced)

1

Lemon

(zested and quartered)

¼

cup

chopped parsley

1

Shallot

(minced)

¼

Cup

Breadcrumbs

Salt and Pepper
Preheat the oven to 450°F.

Heat a medium pot of salted water to boiling on high.

Pick off and mince a few of the fennel fronds. Cut off and discard the fennel stems. Halve and core the fennel bulb; slice into ½-inch-thick strips. Place the sliced fennel on a sheet pan, drizzle with olive oil and season with salt and pepper; toss thoroughly to coat. Arrange in a single layer and roast, 18-20 minutes, tossing halfway through, until tender and golden.

While the fennel roasts, combine the ricotta cheese and the juice of 2 lemon wedges; season with salt and pepper to taste.

In a large skillet, melt butter over medium heat. Add garlic, shallot and half the parsley. Cook until fragrant and softened. Add the breadcrumbs and toast over medium heat, until browned. Season with salt and pepper to taste, and transfer to a small bowl. Wipe out the pan.

In the now clean skillet, combine lemon zest, juice of remaining two lemon wedges, ½ cup water, and 2 tablespoons olive oil; heat to boiling on high heat and stir to combine. Remove from heat.

Boil the pasta until just short of al dente. Reserving ¼ cup of the pasta cooking water, drain the pasta and add it to the skillet of sauce. Add the roasted fennel, minced fennel fronds and reserved cooking water. Cook on medium-high, stirring occasionally, until the pasta is well coated in the sauce.

Remove from heat and season with salt and pepper, to taste, top with breadcrumb mixture, a dollop of the ricotta mixture, and remaining chopped parsley.
Calories: 865kcal | Carbohydrates: 134g | Protein: 27g | Fat: 24g | Saturated Fat: 10g | Cholesterol: 42mg | Sodium: 322mg | Potassium: 1012mg | Fiber: 10g | Sugar: 7g | Vitamin A: 665IU | Vitamin C: 45mg | Calcium: 246mg | Iron: 4mg