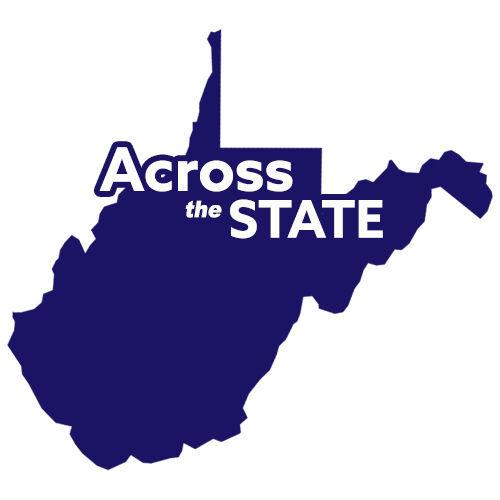 Across the State | Top Story
Faced with a declining population over the last decade, like many cities in West Virginia, Moundsville's leaders look to draw a younger generation to the city — and to have them feel like they belong there.
According to data from the U.S. Census Bureau, Moundsville's recorded population went from 9,318 to 8,093 between April 1, 2010, and the same date in 2020, a drop of more than 13%. To counteract this population loss, the city has taken steps in recent years to invest more heavily in outdoor recreation, which is commonly cited as an attractive aspect to draw families to a location.
More long-term, however, City Council member Sara Wood — who, at 32, is the youngest member on council by 25 years, in her estimation — thinks the city would benefit dramatically from greater civic participation among the younger generations. The next generation of Moundsville will need to step up to the plate eventually, and Wood hopes that having them take the city into their own hands will be the key to making Moundsville a more attractive destination for younger prospective residents.
"Young people want to feel included in the community, and I think they want to know that they have a voice, that their opinion matters," Wood said. "One thing I think we can do as a City Council is encourage people to get involved in our commissions, our boards, our civic groups."
— The Intelligencer/ Wheeling News-Register
The Marshall County Health Department facility was cutting edge and innovative … when it was built in 1955, says Administrator Tom Cook.
In the decades since, the rooms have started to pile up with an ever-increasing amount of paper records, along with odds and ends that are used often enough to need but too infrequently to become permanent fixtures. With the need for more space to spread out at an all-time premium, Cook hopes the county's recent purchase of the next-door building that once hosted the Moundsville Journal will allow the department the room to grow, renovate and improve its facilities — not only to where it wants to be, but also where it will have room to thrive.
The current facility, Cook said, holds several specialized rooms, including an office once used by a dentist, whose chair still remains and is used for clinical purposes, and a darkroom to develop X-rays, which was converted into a standard office space.
More than anything else, Cook said, the department needs more storage space.
"Space. Lots of space," Cook said, when asked what he had the highest hopes for with the new building. "We have supplies in three different locations — we have a storage unit, we're keeping some of our stuff at a fire department, and all the stuff … here, too.
A request for a conditional use permit to allow a mineral extraction operation within the city limits will, once again, go before the Weirton Zoning Board of Appeals during its next meeting.
The Zoning Board will convene in regular session at 4:30 p.m., Tuesday, in the Weirton Room of the Millsop Community Center.
Included in its agenda is a request for a conditional use permit by SWN Production Company, also known as Southwestern Energy, to allow the installation of a natural gas wellpad off of Park Drive.
Representatives of the company initially appeared before the board during its Aug. 3 meeting, with the board opting to table the request following more than two hours of comments from SWN officials and residents.
SWN officials have proposed the operation for the Brownlee property behind the Rue21 distribution center located on Park Drive. It would be established on a 300 acre site approximately one-half-mile behind the distribution center, officials explained.
If approved, this would be the first such operation to be located within any municipality in West Virginia.
Wheeling city officials were thrilled to hear word from the state last week that a bid had been awarded to repair and rehabilitate the city's historic Suspension Bridge.
The West Virginia Division of Highways and the office of Gov. Jim Justice announced that a contract had been awarded to Advantage Steel & Construction LLC for $17,907,147 to make the necessary repairs to the Wheeling Suspension Bridge's superstructure and substructure. The rehabilitation project will also replace any damaged suspension cables, renovate lighting, perform cleaning and complete painting of the bridge.
"It is absolutely fantastic news for the city of Wheeling to know that its most iconic structure, the Suspension Bridge, is going to be fully repaired and rehabilitated," Wheeling Mayor Glenn Elliott said. "I applaud the effort of the governor and his team at the Division of Highways to secure the funding for this critical project. Without his leadership, the future of this irreplaceable public treasure could have remained in jeopardy."
The future of the historic 1849 bridge had remained in limbo over the past two years. The bridge has been closed to vehicle traffic since motorists repeatedly ignored Division of Highways weight restrictions and warnings on the structure.
— The Intelligencer/ Wheeling News-Register
County Commissioner Dave Price says that $400,000 in CARES Act money could help keep county ambulance services afloat while commissioners work to implement a county-wide EMS fee ordinance.
Price made the suggestion at a commission work session last Tuesday. For any action to be taken, the matter must be on the agenda of a commission meeting.
"In return, they would have certain requirements that we would ask that they would fulfill, and that they would monitor those as far as the number of medic groups that are on 24/7 in Preston County and the areas they're located in," Price said.
An EMS fee could provide a permanent solution, he said. In addition, the county should "look to see what the county needs to do as an umbrella for EMS coverage," Price said.
Mountaineer Ambulance closed in February, and Valley Ambulance did so in 2013. The six remaining services are struggling, said Price, who represented the county at meetings with them. Most runs now are being handled by paid services at KAMP, Terra Alta and Bruceton, Price said. The all-volunteer services are doing what they can.
The county has $922,000 in CARES Act funding to allocate. County Administrator Kathy Mace said that money was reimbursement from March 2020 through Dec. 15, 2020, for COVID-related administrative work, law enforcement and the health department. The health department has already received about $19,000.
— Preston County News and Journal
Estimates indicate that in the United States, only 4% to 18% of opioid overdoses that are treated in a hospital or pre-hospital setting — such as an ambulance or someone's home — actually kill the patient. Scientists are still trying to learn about what nonfatal overdoses do to the brain.
To better understand the topic, Erin Winstanley and James Mahoney, researchers with the West Virginia University School of Medicine and Rockefeller Neuroscience Institute, reviewed 79 studies of neurocognitive impairments and brain abnormalities associated with nonfatal opioid overdoses in humans.
The studies all had limitations, according to a WVU release — a sign that more precise research is needed in this area. Yet despite the studies' shortcomings, its findings still suggested that brain abnormalities and cognitive impairments are linked to overdose.
"I think there's probably a host of morbidities associated with experiencing a nonfatal opioid-related overdose that's largely neglected in the published literature and — to a certain extent — from a public health standpoint," Winstanley, an associate professor in the Department of Behavioral Medicine and Psychiatry and the Department of Neuroscience, said in a release. "We should first focus on saving lives. That's definitely the appropriate step."
Underrepresented students at West Virginia University will benefit from a new scholarship established by an international couple seeking to pay tribute to the Mountain State.
T.V. and Vijaya Ramakrishna contributed more than $400,000 to create a namesake scholarship that supports underrepresented students enrolled in any WVU undergraduate program. Their gift bolsters efforts to expand scholarship opportunities for minority students as WVU works to cultivate a more inclusive environment for students, faculty and staff across its campuses, according to a release.
"Scholarship support opens doors for students to pursue their academic goals," WVU Vice President for Diversity, Equity and Inclusion Meshea L. Poore, said in the release. "Our students often face multiple obstacles. Resources such as the Ramakrishna Scholarship can make sure funding is not one of those obstacles. I appreciate the Ramakrishna family's generous investment in our students, our Mountaineer family, and their futures."
Although neither the Ramakrishnas nor son Naren and daughter Sarva Rajendra attended WVU, West Virginia has always held a special place in their hearts. T.V. Ramakrishna grew up in difficult circumstances in India and had no hopes of obtaining an education until a teacher encouraged him to pursue his dreams.
For only the third time in 50 years, the University Assembly has spoken. The body of essentially every full-time West Virginia University faculty member voted in favor of asking the university to require COVID-19 vaccines for all students and employees. The assembly cast 1,094 yes votes and 185 were against.
The last University Assembly vote, in 2007, called for then-university President Mike Garrison to resign over the handling of a master's degree scandal involving the daughter of Joe Manchin, governor at the time and currently a U.S. senator.
A statement on the WVU Faculty Senate website states that the resolution and results will be shared with university leadership.
"We always appreciate and consider input from our campus community," a WVU statement said. "Ultimately it is an administrative decision made in consultation with our Board of Governors."
The WVU statement notes they took a proactive stance by announcing masks were required in labs and classrooms on Aug. 17, anticipating an 80% vaccination verification rate would likely not be achieved by Sept. 1.
As of Friday, the current rates for the Morgantown campus see faculty/staff at 73.46% vaccinated and a 75.91% rate for students.
Jefferson County's impact fees received the seal of approval from the Jefferson County Commission at its regular meeting Thursday morning.
Of the five impact fees that were voted on, the most notable was the public school impact fee, which will now be $1 across the board. The first step toward that change came at the Aug. 5 meeting, when the commission voted 4-1 to change the impact fees that the county receives from its schools to $1.
The idea to lower the fee was first broached by commission President Steve Stolipher, who cited data that suggested school enrollment will continue to decrease in the next couple years, so the impact fees from schools should be eliminated. The commission ultimately decided to keep the $1 fee to ensure that it could easily raise it down the road, should it need to.
"I am not convinced we should continue collecting impact fees for schools," Stolipher said last month. "I am convinced we should continue collecting for fire and ESA and other entities, but I would like to recommend we don't collect the school portion of it, because enrollment isn't increasing; it's declining. We have a lot of small class sizes in elementary school, and we don't have 700-student classes coming into high school. Those kids graduate in four years and don't have a large class to justify it."
The Jefferson Day Report Center is celebrating a successful past year, with its efforts to benefit the community being recognized at the state level as the staff received the Honorable Martin J. Gaughan Award for Excellence in Community Corrections. The award was presented by the governor's Committee on Crime Delinquency and Correction last week.
It is the second time in the nine-year existence of the award that the Jefferson Day Report Center has been honored, the first coming in 2019 under the leadership of former director Rhonda Eddy.
"Out of all the day reports in the state, Jefferson, this is our second time getting it," Executive Director Kelly Franklin said. "That's where I'm really excited. The first one, of course, was under the previous director in 2019, and we received it last week, which is exciting."
A subcommittee nominated various programs from around the state. The leader of each nominated program then submitted a list of highlights from the last year.
At the Martinsburg-Berkeley County Chamber of Commerce News @ Noon event on Wednesday, Margaret Butts, senior business support manager at The Clorox Company, spoke on the company's progress on Tabler Station Road in Martinsburg and shared updates on hiring.
"Our team is growing, and it is very exciting. We can't start a plant by ourselves, and we've already had so much great support from the folks in the community," Butts said.
She clarified the products that will be made at the facility, projected to open in the spring of 2022.
"We will be making cat litter here. Here in Martinsburg, we will be making three different brands of cat litter: Scoop Away, Everclean and Fresh Step. We are hoping to be in our plant in early spring of 2022. The goal is to actually be making cat litter that we can send into the world by mid-summer," Butts said.
She said the products made at the facility in Martinsburg will not change. She added that a lot of people think the facility in Martinsburg is going to be making bleach or cleaning products, which is not the case.
"We are not a bleach plant. The company does make cleaning chemicals, but the Martinsburg plant will not be doing that," she said.
Butts said the company is now hiring for several positions, with more to come.
A committee formed by Beckley Common Council to address homelessness will hear from a woman who spends much of her waking hours on downtown streets.
Ward III Councilman Robert Dunlap said the committee, made up of the city's seven council members and others, met for the first time on Aug. 29..
Dunlap said the committee agreed that city and county officials must take a "proactive" approach to addressing a growing number of women and men who loiter in front of businesses, panhandle at intersections and target some women for sexual harassment who are going to work in downtown buildings.
Dunlap said that one function of the new committee will be to make recommendations to the full council and to the Raleigh County Commission.
Dunlap said a number of organizations are already working to find long-term solutions to the problem of homelessness and vagrancy.
Raleigh County Community Action Association operates an Emergency Housing Center for the homeless, while the Dress for Success Closet, which is operated by Dunlap and Dr. Kristi Dumas, provides free professional clothing to those who need it for work or a court appearance. Dunlap said that he and At-Large Councilwoman Sherrie Hunter last winter helped establish "warming stations" in the city to provide a form of shelter.
The Wyoming County Commission was awarded a $1.5 million Appalachian Regional Commission grant to upgrade the Eastern Wyoming Public Service District water treatment plant.
The project will significantly upgrade the treatment plant and add a surface water source for the current system.
The surface water source will be located in the headwaters of the Guyandotte River, according to Jason Mullins, commission president.
"It will provide a great alternative source for water for that system," he said.
The current source is an abandoned mine in the area, Mullins noted, which can be unreliable.
"We learned that lesson with the Ravencliff-McGraws-Saulsville water," Mullins said.
The Ravencliff-McGraws-Saulsville system's longtime water source, located inside a mine, began to dry up. It took several months and more than a million-and-a-half dollars to correct the problem.
The Eastern Wyoming Public Service District project will improve water service for approximately 1,632 customers and provide a reliable alternative water source.
The Eastern Wyoming system provides water to a large number of residents, Mullins said, and covers a huge area of the county, including Mullens, Stephenson, Barker's Ridge, Alpoca, Bud, Herndon and Herndon Mountain, among others.
Wood County Development would like American Recovery Act funds to make potential sites ready for development in the county.
Executive Director Lindsey Piersol appeared before the Wood County Commission on Thursday to discuss the challenges her agency has in bringing development to the area and how the recovery act money might help move forward on potential projects.
Piersol said the agency is working on a number of projects in the area. Some of the companies the agency is working with have specific requirements for any site they might consider.
"We are losing some projects because we don't have shovel-ready sites," she said. "They are not ready to go."
Some of the issues are a lack of utilities at some sites, access to river and rails and more.
"Sewer and water is a big one," Piersol said.
In some cases, companies have had to have an answer in around 120 days, which is not enough time to do some of the work needed for some of these sites.
"We want more jobs and to expand the tax base," Piersol said. "We are getting to the point where we are getting leads; they are finding reasons to mark us off their list, not keep us on their list.
"We need to do the work to get our sites prepped and ready."
— Parkersburg News and Sentinel
The Mid-Ohio Valley Regional Airport is requesting $500,000 from the county commission for repairs and renovations to its facilities through money being received via the American Recovery Act.
Airport Board President Bill Richardson Jr. and Sean D. Hill, with the West Virginia Department of Transportation Aeronautics Commission, appeared before the commission to talk about the needs of the airport.
The airport is requesting $300,000 to repair the roof on Hangar 4, $185,000 to repair the roof on the old terminal building and $7,800 to pull fiber optic to the old terminal building. The amount includes a cushion of $7,000 in anticipation of any cost overruns.
"With these things done, it will become a source of revenue from rent," Richardson said, adding that the airport has lost tenants due to the condition of Hangar 4 and associated problems with birds.
"Getting these funds will help us maintain some level of income from rental activity and improve the airport," Richardson said.
The Mid-Ohio Valley Airport is the third highest in the state for economic impact to its area — at around $150 million, he said. It is also the second busiest airport in the state for takeoffs and landings for the last three years, he added.
— Parkersburg News and Sentinel
The federal office charged with enforcing surface coal mining regulations and abandoned mine reclamation has required that West Virginia environmental regulators propose a change to its mine cleanup program after finding that they failed to ensure accurate estimations of all outstanding reclamation obligations on active permits.
The Office of Surface Mining Reclamation and Enforcement has instructed the West Virginia Department of Environmental Protection to submit within 60 days an amendment to its reclamation program.
Glenda Owens, the office's deputy director, said in an Aug. 23 letter to department Secretary Harold Ward that the office had determined through a joint review with the department that the program "has not taken sufficient steps" to make sure it's estimating reclamation obligations correctly.
Owens noted that such a failure can lead to unfunded environmental liabilities that aren't discovered until after a permittee forfeiture.
Owens cited a report released in June by the West Virginia Legislative Auditor's Office Post Audit Division that warned state mine cleanup funds are nearing insolvency.
— Charleston Gazette-Mail