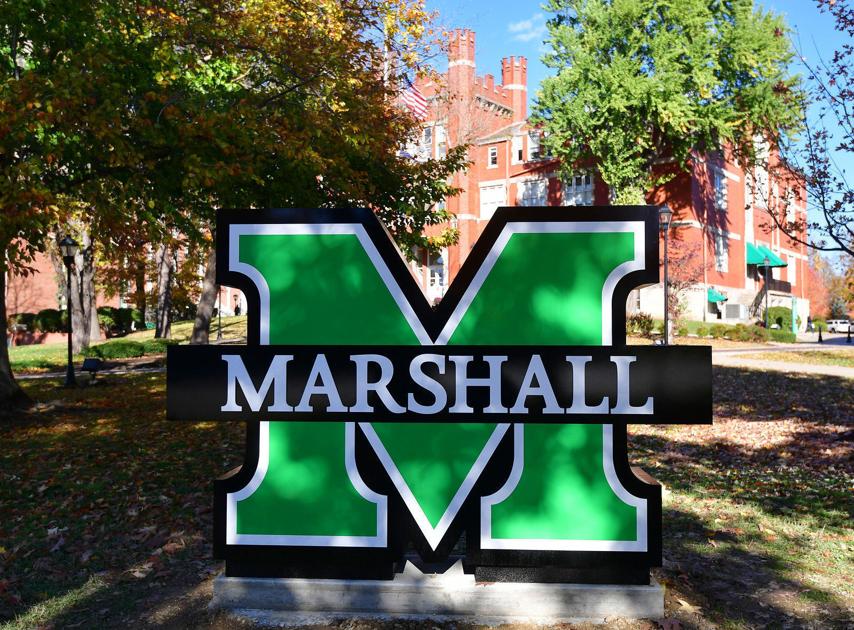 Marshall announces spring 2021 president's and dean's list students | Marshall University
HUNTINGTON — Marshall University has released its president's and dean's lists for the 2021 spring semester.
To make the president's list, students must have a 4.0 grade point average for a minimum of 12 hours.
To make the dean's list, students must have a 3.3 or above grade point average for a minimum of 12 hours. Marshall has nearly 900 students on the president's list and more than 1,800 students on the dean's list. Students who requested their names not be published are excluded. Students' hometowns are listed as provided by the students.
Here are the area students who made the lists.
CABELL COUNTY
BARBOURSVILLE: Nicole D. Adkins, Sophie C. Adkins, Sydney P. Adkins, Missica J. Allen, Madeline J. Altizer, David M. Ashworth, Masden L. Ball, Brittany R. Ballengee, Brooke A. Ballengee, Jasmine E. Bartholomew, MaKenzee S. Bell, Alexis L. Bohm, Elizabeth A. Bush, Sydney M. Clem, Lauren E. Dailey, Joshua E. Dauber, Brooke L. DeHart, Lauren C. Fife, Sean D. Gue, Abrianna S. Jeffries, Garrett M. Jordan, Victoria M. King, Keely G. Kiser, Kasey C. Lemley, Breann R. Maxey, Ralph E. May, Samantha P. May, Jade A. Nash, Mckenna J. Nixon, Layne M. Powell, Corey D. Ross, Leslie E. Titus, Maria E. White.
BRANCHLAND: Nathaniel J. Lawson.
CULLODEN: Grace A. Edmunds, Lindsay T. Garrison, Brooklyn C. Handley, Jillian M. Henley, Lindsey B. Lockhart, Jeremy L. McCloud, Aleigha M. Reed, Kristina D. Rich, Elisabeth F. Roberts, Rebekah H. Roberts, Eric J. Shoemaker, Brianna M. Thomas, Nicholas G. Young.
HUNTINGTON: Micheal S. Allen, Arianna J. Baggett, Samantha L. Barker, William E. Beckett, Callie B. Bellomy, Abir Benamar, Rachel M. Bias, Emma R. Blatt, Cheyenne F. Boslet, Jayson T. Bowen, Caitlyn B. Bowman, Lauren E. Bromund, Kathryn E. Brooks, Noelle E. Brown, Amanda Brumfield, Emily Canterbury, Eden S. Cantrell, Tyler K. Casey, Andrew L. Chambers, Hibba F. Chaudhry, Anna Chenoweth, Gabrielle A. Clairotte, Mikaela M. Clinton, Jean Cole, William R. Coleman, Christina M. Corns, John H. Craig, Jessica R. Crislip, Alexander G. Dague, Dana M. Dawley, Kyra D. DeMoss, Reagan E. Doak, Nathan Dossantos, Margeaux M. Duke, Mason H. Earl, Khaled A. El-Shazly, Vinicius G. Fernandes, Jennifer M. Ferrell, Erin S. Ferry, Tabitha M. Forman-Combs, Adria J. Fox, Hannah N. Frazier, Braxton M. Freeman, Teddy A. Fuller, Lauren L. Gaal, Sarah Gallaher, Kendall L. Gesner, Rieke Gillar, James G. Goodrich, Reagan N. Greear, Nathan A. Green, Brett C. Hammer, Roger T. Harris, Jamie S. Hensley, Philip P. Himmel, Jacob A. Hussell, Jackson L. Hussell-Davis, Ariel R. Jeffers, Amanda P. Jefferson, Chayse M. Jones, Jessica N. Kilgore, Pyogwang Kim, Ashley N. King, Iram M. Kingson, Eszter Laban, Ava C. Lee, Man Nok Leung, Olivia E. Lewis, Davi A. Lima Edwards, Blake T. Lindsley, Jessica L. Livorsi, Neil S. Loftus, Alyssa J. Lott, Courtney F. Lulek, Rachel A. Lykins, Macie L. Majoy, Chloe M. Marcum, Felipe J. Marty, Ethan L. Matovich, Nikolas P. Maynard, Megan S. McCallister, Kacee R. McCoy, Wesley S. McDowell, Sarah E. McGuffey, Brady M. McSweeney, Carly M. Meadows, Daniel J. Miller, Kelsey P. Mills, Johnathon Z. Mohrman, Raeleigh J. Mooij, Allison B. Morehouse, Kristin H. Morgan, Samantha A. Morris, Payton E. Morrone, Logan B. Moye, Levi W. Mullins, Phillip R. Murphy, Jennifer N. Nethercutt, Kristen A. Newsome, Trang T. Ngo, Khanh H. Nguyen, Iselin M. Noevik, Mattison P. Null, Logan S. Osburn, Sarah N. Pack, Carl D. Pelfrey, Daniel T. Perry, Elizabeth A. Perry, Nicholas A. Petrany, Victoria I. Peyton, Benjamin Z. Pinson, Asadullha I. Ranavaya, Kylie M. Rhoton, Jesten R. Richardson, Corton W. Rider, Olivia G. Rogers, Sara B. Romans, Ashley L. Ross, Isaak S. Ross, Lakin M. Runyon, Micayla F. Runyon, Corey W. Saunders, Logan T. Scarberry, Peregrine M. Schray, Oliver Semmle, Sophia A. Simental, Alyssa M. Skaggs, Jocelyn M. Skeens, Brennan A. Smith, Jessica S. Smith, Noah B. Smith, Lauren M. Sommerville, Emily Stowers, Layton G. Sydenstricker, Abi G. Taylor, Courtney M. Taylor, Abigail K. Triplett, Jutte Van Hansewyck, Cameron B. Wallace, Elizabeth L. Williams, Angel R. Willis, Caleb T. Wise, Emma R. Wolfe, Cassidy B. Woodrum, Hannah F. Woods, Amber M. Wooten, Jace K. Yost, Heather N. Young.
LESAGE: Kelley A. Barry, Sophia M. Celdran, Ethan M. Layne, Madeline K. Merritt, Hannah F. Tomes, April M. White.
MILTON: Sydney J. Adams, Natosha D. Brandon, Amelia R. Carter, Natalie K. Chapman, Breanna C. Dufour, Cheyenne R. Elswick, Madison R. Freeman, Sandra M. Hutchison, Rachel L. Kraschnewski, Alexander G. Laverty, Dylan A. Lowe, Joseph E. Meadows, Noah M. Mullens, Summer D. Payne, Hannah G. Perry, Baylee G. Rader, Chloe R. Sergent, Cassidy E. Shively, Zachary S. Spears, Katlin A. Stricklin, Ian P. Waddell, Nicholette M. Watters, Taylor E. Wiles, James C. Williamson, Harper K. TRUE.
ONA: Ala-Eddin Y. Al-Astal, Lauren A. Carroll, Caroline I. Cartwright, Claire A. Fulks, Madison C. Jones, Andrew T. Lester, Joshua D. McCallister, Ethan B. Niebergall, Leila G. Rozzi, Allison R. Short, Linh T. Tran.
SALT ROCK: Abbigayle E. Asebes, Jarod M. Banzon, Sydney D. Gibson, Rielly I. Lucas.
WAYNE COUNTY
CEREDO: Makenzie G. Phelps.
DUNLOW: Jared B. Switzer.
EAST LYNN: Megan P. Shelton.
FORT GAY: Nicholas Damron, Kristyn B. Frasher.
GENOA: Julia P. Costello, Martha E. McDaniel, Cody A. Stiltner, Elijah J. Williamson.
KENOVA: Payton R. Caldwell, Claire C. Ferguson, Madison M. Fields, Austin F. Fry, Marlee R. Hutchinson, Yiannakis A. Lysandrou, Giorgi L. Morrone, Jillian M. Nicholson, Chylee M. Straley, Charles J. Wood.
LAVALETTE: Bethany M. Baker, Erica N. Clark, Brad A. Cremeans, Marvin A. Simpkins, Hannah L. Stapleton, Cassidy A. Waugh.
PRICHARD: Dylan J. Cavins, Raylen L. Hall, Emma L. Mayo, Ethan G. Napier, Daniel E. Stanley.
WAYNE: Madison P. Bias, Reagan E. Booton, Shantae B. Bradshaw, Alexis G. Campbell, Javan S. Christian, Zachary T. Preston, Elizabeth A. Queen, Nicole P. Riniti, Braden T. Ross, Whitney R. Sansom, Kobe B. Stephens, Walker R. Tatum.
LAWRENCE COUNTY, OHIOCHESAPEAKE: Matthew E. Brooks, Lauryn M. Crupe, Addison A. Fizer, Madison E. Gilpin, Madelyn C. Hill, Andrew D. Lees, Emily G. Neal, Sheila Pineda, Kennedy B. Riley, Kelly N. Romans, Mikaela N. Shockley, Brody B. Sowards, Katelyn B. Spears.
COAL GROVE: Shelby B. Littlejohn.
IRONTON: Dustin T. Darnell, Isabella M. Griffiths, Anna L. Preston, Grace J. Simpson, Charles R. Walters, Shelby L. Zerkle.
KITTS HILL: Tommie D. McCartney.
PROCTORVILLE: Alexis B. Adkins, Riley C. Adkins, Mariann Ashmead, Sarah E. Blatt, Sarah A. Combs, Nathanial A. Crum, Jenna B. Eubank, Samuel T. Godschalk, Madison B. Nibert, Ethan Stevenson, Brennen P. West.
SOUTH POINT: Elizabeth H. Adkins, Ryan P. Frasure, Evelynne M. Gibson, Allison P. Himes, Hannah C. Roberts, William A. Ross, Caleb W. Saxton, Danielle N. Ward.
WILLOW WOOD: Megan Russell, Jacqueline M. Shaw.
BOYD COUNTY, KY.
ASHLAND: Megan B. Hall, Hannah R. Hickman, Kasey J. Hicks, Kalissa S. Lindsey, Cydney J. Medley, Hailey B. Proctor, Kymberlea M. Stephens.
CATLETTSBURG: Cailey A. Morella, Kayla B. Rice, Blake D. VanHoose.
CABELL COUNTY
BARBOURSVILLE: Nathan T. Adams, Nicholas S. Adkins, Brett R. Armbruster, Christopher J. Ballard, Jacob S. Bartholomew, Shannon N. Beckett, Rachel E. Belcher, Briannon A. Black, Rachelle L. Black, Cameron T. Blizzard, Alyssa M. Carney, Rayen E. Ciccolella, Joshua W. Cline, Eric T. Cremeans, Natalie K. Dauber, Benjamin J. Day, Micah L. Dixon, Cheyenne B. Dolin, Caleb A. Dorsey, Isabella A. Dragovich, Taylor J. Eastes, Evan M. Ferguson, Madison P. Floyd, Andrew M. Fraley, Tucker J. Hebert, Destani C. Huffman, Haylee R. Johnson, Hailey P. Jordan, Bailey R. Joseph, Selena Khanna, Caroline L. Kinder, Reagan S. Light, Steven T. Lucas, Ashleigh L. Martin, Shane M. Martin, Michael C. Morrison, Chandler R. Morton, Gavin B. Nease, Aubrey M. Nelson, Lesley-Anne Pennington, Aundrea R. Perry, Bryce H. Pullen, Seth I. Rawlings, Hannah E. Ross, Jessica D. Salmons, Joseph C. Sheils, Ashley L. Sinclair, Jason D. Smith, Michael B. Smith, Sydney B. Smith, Emiley B. Squires, Jamie L. Staggers, Audrey L. Stark, Amber H. Stone, Johnathan W. Stover, Nathan A. Surber, Rachael A. Swanson, Braxton J. Vazquez, Trent A. Wallis, Chantal L. Walters, Olivia A. Webb, Kaleb H. Weekley, Ella G. Wilburn, Haleigh B. Zerkle, Julia C. Zimmerman.
CULLODEN: Hannah R. Armstrong, Alexis L. Arnold, Ryan C. Black, William D. Burch, Erica M. Burns, Ellie G. Fisher, Alexus I. Floyd, Benjamin E. Henley, Kelly Housh, Haley D. Lovejoy, Emily G. Moles, Alexander R. O'Dell, Julianne N. Pauley, Jon Saunders, Conrad A. Wallace, Emma C. Weekley.
HUNTINGTON: Aidan M. Adkins, Emily F. Adkins, Grace Adkins, Gabriel Alcides Alves, Naya Alhaj, Josslyn C. Almonte, Khalid Abdull Alshaalan, Brooklynn A. Anderson, Veronica G. Andrews, Bailey A. Arkell, Jordan C. Armstrong, Chase C. Arthur, Brooklynn L. Ash, Averi G. Aya-Ay, Sophia M. Aya-Ay, Cassie M. Bacon, Calvin S. Bailey, Holly J. Bails, Sarah Balderson, Emmanuel O. Balogun, Paige E. Banton, Savana L. Barker, Britney J. Beasley, Angel R. Beaver, Kelly R. Begil, Nakiya A. Bell, Bethany D. Bentley, Emma J. Berry, Jada A. Betaudier, Noah K. Beter, Isaac N. Bias, Haley M. Black, Nina Blackwelder, Casey R. Blough, Dayton M. Blue, Malik D. Boddy, Robert J. Boggs II, Summer F. Boling, Lucy J. Bongiorno, Kenaja M. Booth, Victoria R. Booth, Gavin P. Boothe, Chad A. Bowen, Derrick J. Bowen, Christian A. Boyd, Alayna G. Bradley, Jayla M. Bridges, Aleesha M. Bridgett, Sophia G. Bright, Lydia Brooks, Jacqueline Brown, Mackinzi P. Brown, Abigail S. Browning, Joseph C. Brumfield, Kelcy P. Bryant, Tyler A. Bryant, Robert M. Bryson, Ngan H. Bui, Peter C. Burbery, Sydney L. Bush, Allison A. Callicoat, Raegen G. Callihan, Meagan E. Camden, Catherine M. Campbell, Gina L. Cantoral, Ryan Capuano, Ashley S. Carangi, Abigail G. Cardwell, Ethan H. Carlton, Kennedy M. Carman, Logan R. Carpenter, Luke A. Cassidy, Hannah E. Casto, Benjamin P. Cayton, Mary L. Chapman, Whitney S. Chapman, Rose C. Colclough, Tiffany E. Collins, Adelene C. Comeau, Kenna M. Compton, Kurtis J. Conley, Amanda S. Cook, Brenna Cook, Kaleigh G. Copley, Tyler S. Courts, Kaelyn P. Creasy, Courtney L. Criswell, Mary K. Crow, Adriana A. Crum, Makayla L. Cullum, Jacob R. Cumm, Sarah P. Cunningham, Aakriti Damai, Shayla H. Dang, Autumn T. Deem, Rebekah G. DeMattie, Tanner R. Dixon, Jeffery V. Doak, Peyton N. Dolin, Tyler E. Dudding, Brice E. Duerk, Emilee C. Dunfee, James L. Durham, Kacy L. Elder, Shaun T. Elkins, Nathan T. Ellis, Griffyn B. Ellison, Jaden B. Ellison, David J. Estep, Jordan F. Euskolitz, Karrigan B. Fakourey, Sydney N. Farley, Vitor Feitoza Almeida Di, Yuan Feng, Destiny N. Ferguson, Kelli E. Ferguson, Danielle V. Ferry, Alexa J. Fields, Dalton A. Flaugher, Gara L. Fleming, Katlyn D. Fletcher, Loryn M. Forney, Benjamin M. Fortner, Kayden G. Fox, Molly E. Franklin, Katherine E. Gaddy, Frankland D. Garrett, Rachel E. Geiger, Katelyn T. Ghiz, Alexis B. Giroski, Evan M. Gissel, Regina E. Godfrey, Kyra C. Goodson, Emily P. Graham, Alexis M. Gravely, Aaron A. Gray, Ryan M. Green, Gabriel C. Gunnoe, Preston R. Hager, Hayden D. Hagler, Benjamin I. Haikal, Aryiana S. Haley, Taylor A. Haley, Mitchell H. Hall, Thomas E. Hamilton, Lisa M. Hamm, Victoria S. Hammond, John T. Handley, Georgia G. Hankins, Emma A. Hanlon, Nicholas A. Harmon, Jacob M. Harrah, Jacob L. Harris, Jennifer L. Harshbarger, Samuel C. Hawkwood, Kinley S. Hazelett, Taylor B. Hazlett, Tyler R. Hebert, Arianna S. Hedrick, Richard K. Hensley, Grant Herrenkohl, Nicholas J. Herrmann, Kayla E. Hinton, Darius D. Hodge, Destiny R. Hoffman, Brianne E. Holbrook, Faith E. Holley, Allison H. Hong, Jacquelyn M. Horgan, Caroline P. Howard, Abigail L. Hugh, Madison S. Hylton, Brooke T. Jackson, Madalein T. Jackson, Hamza A. Jafary, James W. Jarrell, Joseph Jarrell, January S. Jarrett, Brettina K. Jeffers, Perri M. Jefferson, Neeley M. Jeffery, Abigail F. Jessup, Karen M. Jones, Kevin Myoungh Joo, Alisha A. Joseph, Zoe L. Kauffer, Madison E. Kazee, Amy M. Kelly, Menis E. Ketchum, Jordan R. King, Joel N. Krznaric, Akira Kusakabe, Shannyn M. Kyle, Layne T. Lambert, Sarah E. Lane, Justin-Lee J. Lanier, Kaitlynn C. Larsen, Katelynn I. Laslo, Olivia G. Lauhon, Tuyen T. Le, Addison B. Leaberry, Bryton R. Leadman, Kayla E. Leist, Ryan C. Leitch, Destiny E. Leon, Alexandra D. Leonard, Tanisha M. Lilly, Selena Lin, Callie T. Linville, Gabriel R. Little, Chianti N. Littlejohn, Hannah M. Liu, Sydney E. Long, Robin E. Lucas, Tommi P. Lunsford, Mary MacPhee, Rachel E. Maddox, Yvonna L. Majdalani, Erika B. Maloney, Lauren B. Marchio, Morgan O. Marcum, Rebecca E. Marcum, Mikhaela K. Martin, Alejandra Martin Hidalgo, Kassidy S. Mathis, Allison N. Matthews, Salem R. Mattscheck-Riffe, Kaitlin F. May, Zoe G. May, Alexis Maynard, Dezray M. Mays, Austin R. McCloud, Karli M. McCloud, Sidney C. McCoy, Eli W. McFeeley, Haley R. McGown, Lindsay P. McKelvey, Klara E. Meadows, Meredith K. Mears, Jacob J. Meek, Chandni Mehta, Caleb J. Meredith, Kaylea M. Metzgar, Caroline E. Miller, Samantha J. Miller, Daniel R. Minihan, Simeon I. Mink, Preston S. Moehling, Emmalee S. Moles, Cyrah V. Moore, Mason E. Moore, Caleb W. Morgan, Christian J. Morrow, Chase M. Moses, Macie G. Motley, Haley E. Mounts, Corey G. Munro, Jordan M. Musgrave, Brianna M. Naylor, Jalen X. Norwood, Caitlin E. Null, Chidinma Prec Nwadili, Alexandra C. O'Connor, Sophia N. Oliashirazi, Despena O'Neill, Yiwei Ouyang, Shivani V. Patel, Tristan M. Patton, Morgan D. Pemberton, Ryann M. Pemberton, Autumn E. Pennington, Cross Perdue, Madison G. Perdue, Taylor L. Phillips, Haley R. Pijor, Jacob A. Poindexter, Skyler G. Poling, Lauryn N. Poole, Christopher Z. Porter, Kyle D. Powers, Craig G. Preece, Haley N. Preece, Alanie J. Preston, Yiren Qi, Regan E. Raines, Bridget G. Rajarajan, Erica L. Ramsey, Casey J. Rash, Ethan C. Rayment, Kaitlyn B. Reffitt, Paige A. Reger, Fred A. Rice, ReAnna M. Richardson, Chloe J. Riffe, Quinn M. Robertson, Benjamin E. Romans, Madeline G. Rood, Lorelei Roper, Jaymi M. Ross, Madelyn N. Ross, Shawn D. Ross, Matthew T. Roswall, Ren L. Roy, Alaina G. Rumbaugh, Bailey L. Sanders, Elbany N. Sanford, Marko Sarenac, Maggie E. Saunders, Tiah Scarberry, Katrina L. Schipper, Brian I. Schleicher, Dylan G. Schultz, Kelsie R. Scott, Nicholas T. Scott, Katelyn S. Sexton, Cheyenne N. Shaver, Riley E. Shirkey, Alvin M. Shivere, Robert C. Shriver, Elizabeth A. Simmons, Danielle R. Slone, Gabrielle D. Smertneck, Rileigh B. Smirl, Abigail L. Smith, Alyson B. Smith, Branden R. Smith, Kendra P. Smith, Ryan N. Smith, Selby R. Smith, Ryan B. Spangler, Anna G. Spears, Allyson P. Steele, Corey B. Steele, Taylor B. Stevens, Brooklyn J. Stoner, Jared M. Stull, Sarah J. Stultz, Anastasiia Sukhanova, Julia P. Suttles, Justin G. Tackett, Or Tamir, Jared W. Terry, Hunter R. Thevenin, Traeshawn Thomas, Johnathan R. Thompson, Hannah R. Toppins, Jozlend T. Tucker, Ashlee M. Turley, Nicholas G. Tweel, Gideon U. Udoh, Megan R. Underwood, Brenlin E. Van Camp, Jared S. VanReenan, Stephen M. VanScoy, David D. Varney, Elian L. Ventura, Gillian P. Viars, David E. Vidrine, Patrick C. Wagner, Tiffany D. Walters, Victoria L. Ware, Alyssa M. Watts, Braxton C. Webster, James R. White, Travis D. Whitmore, Emily B. Whitt, Austin J. Wiles, Eva C. Willauer, Erika M. Williams, Ethan C. Wills, Braelee S. Wilson, Madison S. Wilson, Syerra E. Wilson, Treston N. Withrow, Katie E. Wooten, Augustus T. Workman, Lauren B. Wright, Emily K. Yablonsky, Naoko Yamamoto, Olivia G. Young, Luke M. Zban, Pingyuan Zeng, Yi Zhan.
LESAGE: Keturah M. Knight, Shealyn K. Lewis.
MILTON: Yousef A. Abdelgaber, Mary S. Anton, Julie A. Barr, Joshua T. Biser, Jessica M. Black, Alexis G. Carter, Brent M. Carter, Hannah G. Chapman, Nicholas J. Chapman, Seth R. Chapman, Laura H. Clagg, Nicolas M. Crouch, Ryan C. Davis, Reanna G. DeVore, Alexis L. Dillon, Kayley R. Dillon, Morgan R. Freeman, Haylie D. Hockenberry, Chloe P. Horn, Olivia L. Horton, Andrea B. Jackson, Jessica M. Kraschnewski, Lucas R. Kroening, Jordan D. Larck, Caitlin B. Leedy, Lily Liu, Caleb S. McComas, Avery D. Meadows, Javern B. Mentore-Alleyne, Kylie M. Miles, Madisyn B. Mitchell, Pamela L. Ochs, Alyssa N. Peyton, Garrett B. Ramsey, Lesley E. Rigsby, Isabella G. Scarberry, Emily M. Shively, Justin T. Spence, Emily E. Stoll, Sheridan R. Thompson, Macey L. Wagner, Hannah E. Waldron.
ONA: Brian E. Ash, Christina M. Bowen, Grace L. Brumfield, Craig S. Carpenter II, Chasten A. Childers, Hunter R. Childers, Samantha J. Cogar, Riley N. Curry, Aaron D. Frost, Bader Helwani, Grace E. Hewitt, Dylan J. Hoffman, Nicholas P. Jaquint, Irene G. Javier, Victoria F. Kelley, Makayla R. Matthews, Daniel Miller, Jarrett D. Plumley, Tyler P. Powell, Coy E. Smith, Raymond A. Warden, Lakyn E. West, Nicholas S. Wheeler.
SALT ROCK: Alaina S. Asebes, Bailey E. Baker, Chenoa S. Bocook, Samuel S. Burdette, Audrey L. McComas, Macy A. Music.
WAYNE COUNTY
CEREDO: Zachary J. Cable, Olivia N. Jarrell.
CRUM: Cameron T. Nichols.
DUNLOW: Jacob T. Mollette.
EAST LYNN: Shyanna S. Ashcraft, Kaleb J. McDaniel, Kyler G. McDaniel.
FORT GAY: Lea D. Blackburn, Ashley D. Hofmeister, Bethany L. Ratcliff, Kennah R. Salmons, Hannah E. Smith, Sydne P. Stanley, Emily G. Waugh, Jason D. Wellman II.
GENOA: Darian L. Maynard, Kayla R. McComas, Michael R. Moon, Aaron M. Napier, Lindsey J. Riggs, Cody G. Sansom, Faith E. Williamson.
KENOVA: Kailie P. Bellomy, Matthew E. Bryan, Meredith G. Cobb, Drew B. Deerfield, Nicholas A. Earl, David W. Fox, Jaclyn O. Hardin, Tabitha K. Hensley, Sean M. Kidd, Jacob M. Kirby, George B. Morrone IV, Lindsay F. Noe, Christian A. Palmer, Vincent C. Richards, Joanne M. Smith, Gatlin P. Spangler, Paul W. Yeoman.
LAVALETTE: Lauren M. Blatt, Carson G. Boothe, Caleb S. Bradshaw, Holley D. Christian, Vanessa E. Coffman, Makayla L. Cremeans, Maryellen K. Marsh, Regan A. Mathis, Natalie M. McCann, Joseph R. Mills, Kimberly W. Moore, Jenna C. Taylor, Madison B. Vaughn, Delaney E. Waugh, Anthony K. Whitlock, Sidney Wolfe.
PRICHARD: Anthony T. Adkins, Lindsey G. Bellomy, Brittany N. Kelley, Jessica A. Mitchell, Layken E. Payne, Richard T. Pelfrey, Jehniebave L. Perry, Sarah L. Rowe, Chase A. Smith, Lakin E. Wellman.
WAYNE: Sarah C. Adkins, Skylar M. Archer, Kaitlyn V. Arnold, Alexis R. Conley, John W. Creed, Collin R. Dodgion, Wyat J. Draper, Ruby J. Endicott, Evan T. Francis, Kara B. Justice, Charity J. Leep, Caleb T. Lucas, Rileigh K. Parsons, Hanna G. Preece, Savannah J. Rice, Kaitlyn N. Ross, Lauryn E. Sifford, Jacob R. Simpkins, Sara O. Stephens, Charles H. Watts, Joel T. Watts.
LAWRENCE COUNTY, OHIO
CHESAPEAKE: Britney M. Dement, Marcus A. Jaime, Joel T. Lambiotte, Tempest K. Lindsey, Devin A. Mace, Carter C. Marcum, Haylee C. Mays, Darby J. McCloud, Casey L. McComas, Jamie L. Meadows, Jessie L. Meadows, Mackenzie G. Moir, Katherine N. Morgan, Jonah D. Ridenour, Ryleigh P. Swann, Macin L. Taylor, Rachael S. Terry, Tilman L. Turley, Madeline B. Watts, Abigail C. Wayne, Sydney N. Wellman, Ryan J. Williams.
COAL GROVE: Katie S. Fields, Robbie L. Mcquay.
IRONTON: Chanston R. Bryant, Jay-Leigh B. Crabtree, Alexa N. Dickerson, Brady Doyle, Savannah C. Friend, Alexandra A. Gillette, Jason P. Haywood, Madelyn E. Heighton, Alexandria J. Jones, Marlee N. Kaiser, Ye Lin, Clay V. Willis, Olivia M. Yeomans.
KITTS HILL: Dylan L. Malone, Callie J. Thacker.
OAK HILL: Kaitlin Miller.
PROCTORVILLE: Adam M. Boggs, Devon M. Forbush, Jacquelyn O. Goodenough, Makenzie R. Kazee, Zachary L. Kincaid, Lacy J. Lemley, Olivia G. Roberts, Hanna J. Shrout.
SOUTH POINT: Sara E. Allen, Isabella A. Arthur, Alyssa N. Brewer, Ryan A. Brown, Jenna G. Clary, Hollie R. Duncan, William C. Hutchinson, Rachel Jackson, Cait P. Kelley, Samantha C. LaFon, Harrison J. Letchford, Matthew B. Mercer, Emalee B. Park, Holly E. Ramey, Abigail R. Ross, Douglas R. Shaffer, Braden A. Short, Tina R. Starkey, Jonathan T. Still, Wyatt J. Thacker, Bennett A. Walls, Madaline N. Watson, Mark S. Whitt.
WILLOW WOOD: Kayley P. Logan, Elizabeth G. Stephens.
BOYD COUNTY, KY.
ASHLAND: Kaleigh B. Evans, Haley B. Hardy, Samantha M. Hatten, Savannah J. Ison, Caleb W. Johnson, Alexis N. Marinich, Adrianna M. Pereira, Sydni N. Pierce, Dennaya M. Ross, Dmitri M. Ward, Nicholas C. Ward, Jayci R. Woods.
CATLETTSBURG: David W. Blankenbeckley, Erin R. Borders, Julia M. Minigh, James W. Robbins, McKenzie K. Smith, Savannah B. Wheeler.