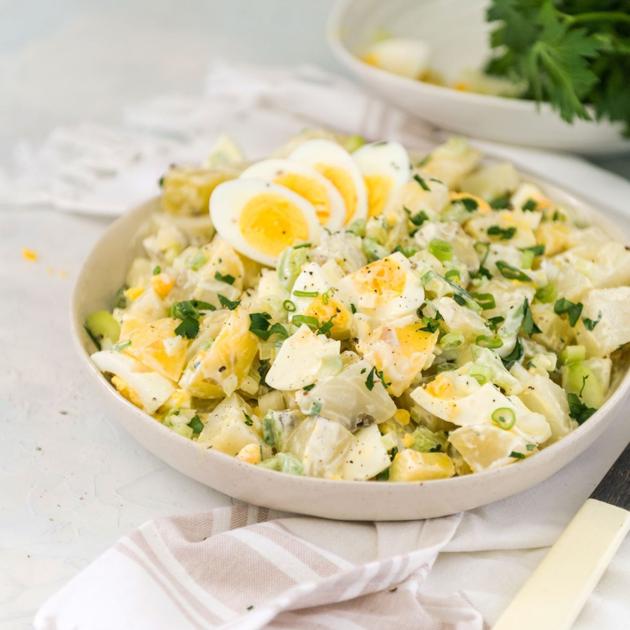 Reader Recipe Challenge: Potato Salad | Life
It's summertime. Can't you hear the screen door slam?
We've entered the realm of: Backyard barbecues. Corn on the cob. Burgers and hot dogs. Grilled chicken. Steaks on the barbie.
And what goes with all of those dishes like mom and apple pie? You know it: that classic side dish — Potato Salad.
My mom didn't really have an actual written-down-on-a-recipe-card potato salad recipe for what she'd toss into creamy, crunchy, potato-y goodness. She just knew what all and how much to throw in.
And while I've never been able to replicate that, she did have a recipe for a German Potato Salad that's equally delicious. It's a warm potato salad and goes great with chops and hot dogs. You can try it and see what you think.
What about you? Do you have a favorite potato salad recipe? Send 'em in and we will try to get them in the paper in time for The Fourth of July.
Send your Potato Salad recipe, along with the story behind it and a photo or two. I'll publish them in a future Life section. Send the recipes, stories and photos to me: [email protected]
To whet your appetite, try one of the following recipes, one from my mom's recipe box as well as a few from the Idaho Potato Commission. Oh, also, there are more online at idahopress.com.
Julie Huff's German Potato Salad
3 1/2 pounds medium potatoes (about 10)
Cook potatoes, covered, in salted water 35 to 40 minutes until fork tender. Peel warm potatoes, slice, add onion. In large skillet fry bacon; remove from heat. Lift out with slotted spoon and set aside. Pour off fat, return 1/4 cup to skillet. Stir in flour. Add sugar, butter, salt, pepper, vinegar, 1 cup water. Bring to boil, stirring. Remove from heat; add sour cream. Add potatoes, onion, half of bacon. Toss gently. Sprinkle with rest of bacon and parsley. Serve warm or cold.
IPC's Best Traditional Potato Salad
2 1/2 – 3 pounds Idaho potatoes (5 large, or 8-9 medium)
8 hard-boiled eggs, peeled
1 medium onion, finely chopped (about 1/2 cup)
3 dill pickle spears, chopped (about 2/3 cup)
1/2 cup Miracle Whip salad dressing
3 tablespoons liquid from dill pickle jar
2 tablespoons prepared yellow mustard
1/4 teaspoon freshly ground black pepper
Scrub potatoes well, but do not peel. Place potatoes in a stockpot, add water to cover and bring to a boil over high heat. Reduce heat to medium high and cook 12 to 15 minutes, or until a knife can easily pierce the potatoes, but they're still firm. Pour off the hot water, and add cold water to the pot to help cool down the potatoes. Set potatoes aside while preparing remaining ingredients.
Roughly chop 6 of the eggs, saving two for garnish. Add the chopped egg to a large mixing bowl. Add the onion and chopped pickles to the bowl.
In a small mixing bowl, using a whisk, combine the mayonnaise, Miracle Whip, dill pickle liquid, yellow mustard, salt and pepper. Whisk well to combine; set aside.
Remove the cooled potatoes from the pot of water. With a paring knife, remove the potato peels (they will come off easily). Cut the potatoes into small cubes and add to the other ingredients in the mixing bowl. With a wooden spoon, gently toss the salad ingredients to mix. Add the dressing mixture and gently toss again to coat all ingredients well.
Transfer potato salad to a serving bowl. Slice remaining two eggs into thin slices and arrange them around the salad to garnish. Cover and refrigerate at least 3 hours before serving (preferably overnight) to let the flavors combine.
— Idaho Potato Commission
Chile Cumin Potato Taco Salad
2 dried ancho chilies, stems removed and seeded
1 tablespoon fresh lime juice
½ tablespoon brown or piloncillo sugar
24 ounces small tri-color Idaho® potatoes quartered, unless smaller than ½˝ (about 4 cups chopped or halved)
1 batch ancho chile sauce
8 cups chopped romaine lettuce
4 cups cooked corn kernels
Ancho Vinaigrette (makes about 1 cup)
¼ cup apple cider vinegar
3 tablespoons vegan mayonnaise
1 tablespoon ancho chili sauce
½ lime, juiced (about 1 tablespoon)
Add the water and chilies to the water and heat on the stove (or sauté in your Instant Pot) until reconstituted.
Add to a small blender or food processor with lime juice, sugar, and salt. Blend until smooth.
Preheat oven to 450 degrees. Toss the potatoes with olive oil and salt. Place on a baking sheet and cook for 15 minutes, or until about ¾ of the way done. Turn oven down to 350 degrees.
Remove potatoes from oven and place in mixing bowl. Add 3 tablespoons ancho chile sauce and the ground cumin. Toss until well combined. Put the potatoes back on the baking sheet and bake 5 minutes more. Remove from oven.
Divide the salad ingredients between 4 plates and top each with ¼ of the Chile Cumin Potatoes.
Place all the vinaigrette ingredients in a mason jar. Put the lid on and shake until emulsified and well blended.
Drizzle vinaigrette over salads and serve.
— Idaho Potato Commission and Kathy Hester
2 pounds fresh potatoes, sliced ¼-inch thick (little, thin-skinned potatoes work best here)
2 tablespoons of sea salt
1 tablespoon Dijon mustard
¼ cup champagne vinegar or white wine vinegar
¼ cup fresh flat-leaf parsley, roughly chopped
2 tablespoons fresh tarragon, roughly chopped (or sub ¼ cup dill or basil ribbons)
2 tablespoons fresh chives (or sub green onions), minced
Place the sliced potatoes in a large saucepan covered completely with cold water.
Sprinkle in salt and bring to a boil.
Add the garlic and reduce heat. Simmer 5 minutes or until potatoes are just tender.
While potatoes are simmering, make the vinaigrette by whisking together Dijon, vinegar, oil and pepper in a small bowl. Set aside.
Drain potatoes and garlic. Place potatoes mostly single layer on a baking sheet to cool.
Mince the cooked garlic and add to the vinaigrette. Drizzle the vinaigrette evenly over the warm potatoes. Let sit at room temperature for about 10-15 minutes.
Add to a serving bowl gently tossing with the chopped fresh herbs. Serve at room temp or refrigerate and chill.
This can be made ahead and chilled up to 4 days, but also really delicious served at room temp.
—Idaho Potato Commission and Sylvia Fountaine
Vegan Brazilian Idaho Potato Salad
Brazilian potato salad has a mayo-based dressing and hard-boiled eggs just like American potato salad. Since this is a vegan recipe use a special salt that tastes like eggs instead of real eggs — it's called kala namak and you can find it online or at Indian groceries.
Don't have a instant pot/pressure cooker — not to worry. There's stovetop preps included below.
4 cups potatoes, cut into bite-sized pieces
1 cup green peas (fresh or thawed frozen)
1 cup corn kernels (fresh or thawed frozen)
¼ cup plus 1 tablespoon vegan mayo
10 black or green olives, minced
1 teaspoon kala namak (or ½ teaspoon regular salt)
½ teaspoon ground black pepper
Place the potatoes, water, and carrots into your Instant Pot* and cook on manual, high pressure, for 10 minutes.
Manually release the pressure and remove the lid. Add the peas and corn, replace the lid and cook on manual, low pressure, for 0 minutes. Yes, I really mean zero minutes.
Once it's done, which will be a few minutes since it will need time to come back up to pressure, release the pressure manually.
Pour everything into a colander and rinse with cold water to stop the cooking. Set aside.
Mixing the dressing ingredients together in a measuring cup or small bowl
In a large mixing bowl add the cooled vegetables and the dressing then mix well.
You can serve it as is, or chill for an hour.
*Note: If you don't have an Instant Pot, you can still make this delicious salad. Just cook the potatoes and carrots in a pot on your stove over medium heat until they are easily pierced with a fork. Remove from heat and add peas and corn, cover and let sit for about 5 minutes, or until the peas and corn are cooked. Then start on step 4 above.
— Idaho Potato Commission and Kathy Hester
Jeanne Huff is the community engagement editor for the Idaho Press. You can reach her at 208-465-8106 and follow her on Twitter @goodnewsgirl.