Ribollita – Tuscan Bread Soup
Ribollita, the classic Tuscan bread soup, is a warm, comforting, delicious and healthy soup that anyone can whip up in less than an hour.
Any time of the year when temperatures drop and the body and mind craves comforting and warming soups and stews, it's always a wise idea to turn to the good people of Tuscany for advise. They have always been at the very top of their game when it comes to almost any kind of food – but they excel even more in hearty and simple foods that scream out LOVE when you eat them.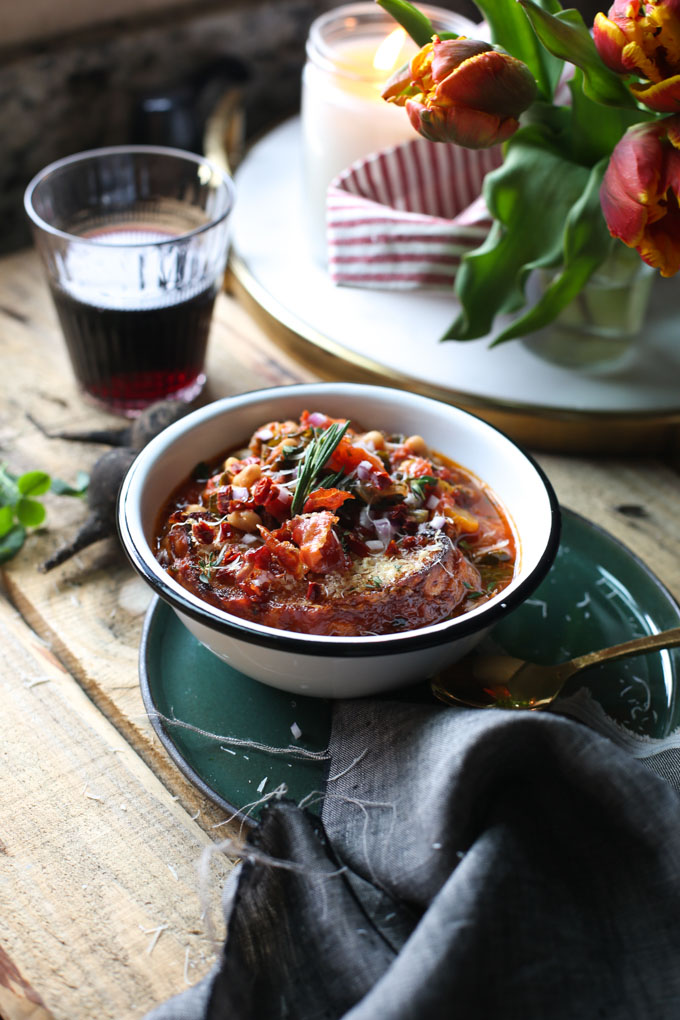 Ribollita is one of the most classic of Tuscan soups – a delicious peasant dish featuring basically whatever you can find in the market. It was originally made by re-heating the previous day's soup, and adding bread and cheese to create a filling stew that could easily feed a hungry family. Ribollita literally means "reboiled", so why not try this with leftover minestrone or other Italian inspired soups you create at home?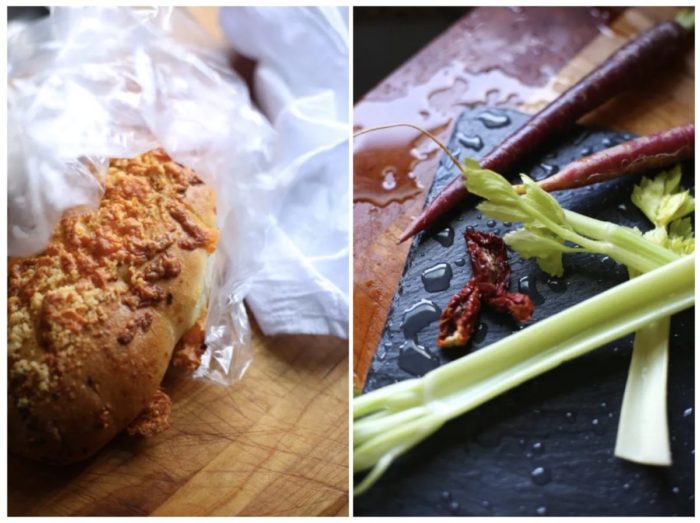 To make a ribollita from scratch, you'll want to get some rustic vegetables (celery, carrots, kale, garlic and the likes), and have them simmer away with good chicken stock and equally good tomatoes. Finishing it off in the oven with a layer of bubbly, golden parmesan cheese and a topping of good bread – this is a dish that will keep you and your family coming back for more.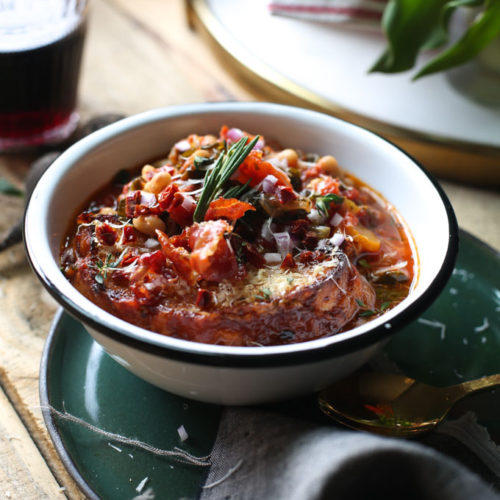 Tuscan Bread Soup – Ribollita
The classic Tuscan bread soup with beans, parmesan cheese, prosciutto and bread is the perfect cold evening comfort food.
2

tbsp

extra virgin olive oil

4

slices

Prosciutto di Parma

1

small

onion

chopped

2

ribs

celery

chopped

2

cups

kale

chopped

2

carrots

peeled and chopped

2

cloves

garlic

chopped

1

tbsp

tomato paste

4

sun dried tomatoes

chopped

1

bay leaf

4

sprigs

fresh thyme, leaves removed from stem

1

sprig

fresh rosemary, leaves removed from stem

1

15 oz can diced tomatoes

1

15 oz can Cannellini beans

4

cups

chicken stock

1

cup

grated Parmesan cheese
Heat one tablespoon of the olive oil in a stock pot set over medium-high heat. Add the prosciutto to the oil and cook, turning occasionally until browned and crisp. Remove from the pot and place on a paper towel-lined plate to remove any excess grease.

Add the additional tablespoon of olive oil, onion, celery, and carrots to the pot. Cook, stirring occasionally, until the vegetables are tender, about 8 minutes. Add the garlic, kale, tomato paste, sundried tomatoes, and herbs to the pot, and cook for an additional minute.

Pour in the tomatoes, Cannellini beans, and chicken stock and bring to a boil. Once boiling, cover and reduce the heat to medium-low. Simmer for approximately 20 minutes, until the tomatoes are broken up and some of the liquid has reduced.

Meanwhile, preheat the oven to 500 degrees. Place the bread in the warmed oven and lightly toast.

Cover the cooked soup with the toasted bread (in a single layer), Parmesan cheese, and a drizzle of olive oil. Bake in the oven for approximately 10 minutes, until the cheese is melted and the bread is lightly browned. To serve: spoon the soup out as is, with a crusty "crouton" on top, or gently mash the bread into the soup.